The British Council has announced that artist and filmmaker John Aconfra will represent Britain at the 2024 Venice Biennale.
Knighted on the 2023 Honors List, Akomfrah is known for art films and multi-screen video installations that explore issues such as racial injustice, diaspora identity, migration and climate change. The Ghanaian artist's work will fill the British Pavilion in Venice from next April until his November.
Akomfrah, 65, first came to prominence in the early 1980s as the founder of the Black Audio Film Collective (BAFC). BAFC is one of the first groups to challenge how the UK's black community is represented on screen and in the media. BAFC's first film, Handsworth Songs, explores the events surrounding the 1985 Birmingham and London riots using a combination of archive footage, stills, newly shot material and newsreels.
Akomfrah's other work includes The Unfinished Conversation (2012), a three-screen installation depicting the life and work of cultural theorist Stuart Hall. Mnemosyne (2010) exposed the economic hardships and casual racism faced by immigrants in the UK. Vertigo Sea (2015) is a three-screen installation that focuses on the anarchy and cruelty of the whaling industry, juxtaposed with scenes of generations of migrants crossing the majestic sea in search of a better life. and Purple (2017), the largest film installation to date, addressed the climate crisis.
He previously told The Guardian that moving to the UK at the age of four has allowed him to intervene in debates about immigration and create works that offset the "contagious rhetoric" many use to explain refugee flows. "moral duty" was given to him. Europe.
In 2017, the artist won the Artes Mundi Award, Britain's largest award for international art. He previously participated in the 2019 Venice Biennale with his work "Four Nocturnes". This work, commissioned for his pavilion in Ghana for the first time, reflects the complex and intertwined relationship between human destruction of the natural world and self-destruction.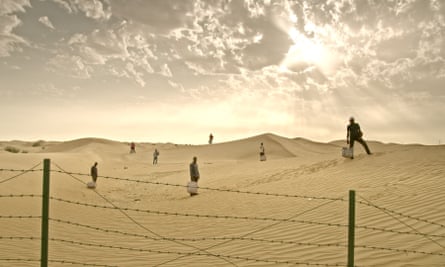 Following a request from the British Council, Mr Akomufra said it was "a great privilege and honor" to be asked to represent Britain at an international art exhibition. It's one of the most exciting opportunities you can have," he said.
"I see this invitation as recognition and a platform to all the people I have worked with over the decades and who continue to make my work possible. I am grateful to have been given the opportunity to explore gender, the nation it represents, and the complex history and significance of Venetian architects.
The British Council has been in charge of the British Pavilion at the Venice Biennale since 1937. Artists such as recent Golden His Lion winners Sonia Boyce, Tracy Emin, Phyllida Barlow and Steve McQueen have represented the UK in the past.
Skinder Hundal, Global Director of the British Council and Commissioner of the British Pavilion, said: John's inspiring style and narratives are constantly evolving, revealing important ideas and questions about the world we live in.
"The quality of his artistry and depth of context never fails to inspire deep reflection and awe. It's time to jump."