Two women were caught on camera and arrested after getting into a violent altercation with an airline employee at a ticket counter at Miami International Airport on Tuesday.
A video provided by Only in Dade shows the two women being detained after an argument at the Frontier Airlines ticket counter shortly after 9:30 am.
Miami-Dade police weren't allowed to board a plane to Atlanta after two women showed up 45 minutes late.
The controversy escalated when one of the women, 20-year-old Makyan Mercer, threw a plastic sign holder at the employee, cutting her face, according to the arrest report.
Officers took Mercer into custody, at which point a second woman, identified as 21-year-old Janaeah Negash, attempted to interfere with the arrest, intervening officers and yelling not to touch her.
Negash was also taken into custody and charged with resisting arrest for violence and disorderly conduct. Mercer resisted arrest for violence and disorderly conduct and was charged with aggravated battery.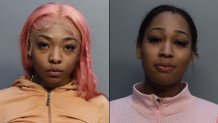 According to the arrest report, Negash and Mercer live in Durham, North Carolina.
The employee was taken to Jackson Memorial Hospital and treated for his injuries.
Frontier Airlines said in a statement that two women became aggressive when they were told they were past the designated check-in deadline.
"We are providing full support to the injured team member and are appalled by the conduct of the two customers who were ultimately arrested. They have both permanently refused to fly with us in the future." will be prohibited by